Trustworthy Air Conditioning and Heating Services for the DFW Area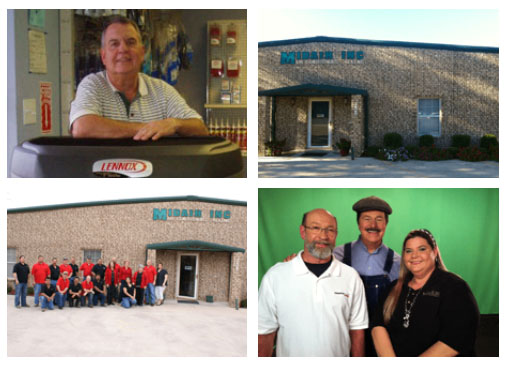 History that started us where we are now, Donnie Broom opened his company doors in 1979. We service all of makes and models of air conditioning & heating equipment. We service and install residential and commercial. Donnie has owned and operated Midair for nearly 40-years. He & his employees have worked on just about anything, from servicing and changing out to installing new in Residential homes, Commercial Buildings, MRI facilities, Manufacturing Plants, your Local Schools, Military and Government Facilities. We have done work just about everywhere in Texas and worked also in Arkansas, Louisiana, New Mexico and Oklahoma.
Donnie, started out as Broom Heating and Air, back in 1979 in a small office in Haltom City off of Garland. From there it grew from 2 brothers to over 30+ employees. He did briefly merge with another partner in the 90's and then left the partnership and continued with the name Midair Air Conditioning & Heating Inc. He rented a small office and warehouse in Saginaw. And he ended purchasing the land next door to where he was renting on McLeroy Street and built the office/warehouse we are currently in.
He hired on his daughter in 1998, Dee Ann Odom to work in front office and learn the trade. In 2003, he hired Rick Minton who worked beside Donnie for 3 years, until he needed to go back home to be with his folks in North Carolina, but he came back to us in 2014. Rick works on bids, running our installation crews, and general operations manager. In 2004, Donnie hired our current Service Manager, Kenny Brooks and he leads our current 5 technicians and is truly a major asset to our company.
Jump forward to June 01, 2018 Donnie has handed over his pride and joy that he has worked so hard on for 40 years to his Daughter, Dee Ann Odom and her new partner Rick Minton. Our intents with this company are to maintain all customers and clients, and continue to grow as a company and to be a leader and solid HVAC company in the Fort Worth/Dallas area. With Dee and Ricks combined 50+ years' work experience and Kenny our service managers 35+ years' experience, we feel like we have a winning combination to tackle your toughest A/C & Heating problems.
Our promise to you... We will always treat you the way we would want to be treated. Donnie built this business on a foundation of good work ethics, treating our customers fairly and in turn made our customers like our extended family & friends for all of us who work here at Midair Air Conditioning & Heating Inc. We, Dee Ann Odom & Rick Minton promise to keep this as our foundation and always striving to be better than any other A/C Companies out there. Please feel free to contact either one of us at any time.
Dee Ann Odom - President/CEO
deeb@midairinc.com
With extensive experience in air conditioning and heating, and thousands of satisfied customers in the DFW metroplex area, Midair Inc. has both the resources and quality service to meet all your air conditioning and heating needs

100% customer satisfaction. We're dedicated to making sure that you're happy with the work that you receive from us.

We offer warranties for all repairs completed on your Air Conditioner or Heating system, along with a complete safety and function check.

All suggested repairs will be explained in as much detail as possible, enabling you to make educated decisions for your home or business.
Mid Air Testimonials
Mike came out and changed out my condenser unit under warranty ... listened to me & didn't mind me looking over his shoulder (to learn for myself). Job completed just as the June monsoon began Thanks, Mike.
The young lady, Robin, who answered the phone was enthusiastic in helping me with my immediate needs and was able to send Chris out who was professional, informative and personable. I WILL use you again!My only question is can I request Chris again?
We've always had a great experience with Midair. Use them every year to maintain my unit, just like going to the doctor for a checkup. One thing is for sure, I don't want my air conditioner going out in the heat of the summer.