If you're looking to improve your indoor air quality in your home, it may be time to invest in Mid Air's duct cleaning services. We have the expertise to clean out your dust particles within your duct system to allow for clean, allergen free air to travel through your home. Buildup from daily HVAC use could contain pounds of dirt and pet dander hiding in your ductwork. If you're suffering from allergy attacks while in the comfort of your own home, an effective duct cleaning may be the solution to your allergy problems. Our trained HVAC technicians can deliver a full ductwork cleaning for your home, improving the indoor air quality of your HVAC system.
Air Duct Inspection:
We offer air duct inspections to verify that your ductwork need to be cleaned, and we will inform you of the quality of your air ducts every step of the way.
Vacuuming:
We use a HEPA-filtered vacuum to clean your blower and vent covers, as well as your evaporator coil. We then use it on your ductwork to remove dirt from your system.
Compressed Air Flush
Once we have loosened the pet dander and dirt from your air ducts, we blow compressed air throughout the system to eliminate all dirt and dust from your system into our vacuum system.
Mold
It's possible that your home contains a punctured duct wall or a poor connection that could lead to moisture forming within your ductwork. Our HVAC technicians can identify this issue for you and clean out all traces of mold within your ductwork.
Air Duct Cleaning Benefits
Breathe easier with a cleaner indoor environment once you have your air ducts cleaned by Mid Air Inc.
• Reduced Airborne Allergents
• Better Indoor Air Quality
• Better Energy Efficiency

24/7 Emergency Services
Texas heat can be unbearable. With that in mind, we offer emergency services for residential and commercial customers.

Complete Safety and Function Check
Every repair and installation that we perform will be thoroughly tested for safety and functionality. 100% satisfaction guaranteed.
Warranties for Parts & Labor
We have full confidence that all A/C repairs will satisfy your needs. To prove that, we offer warranties for parts and labor.

Ask About our Planned Service
Extend the life of your equipment by making sure that it is finely tuned at all times. It pays for itself by cutting your costs!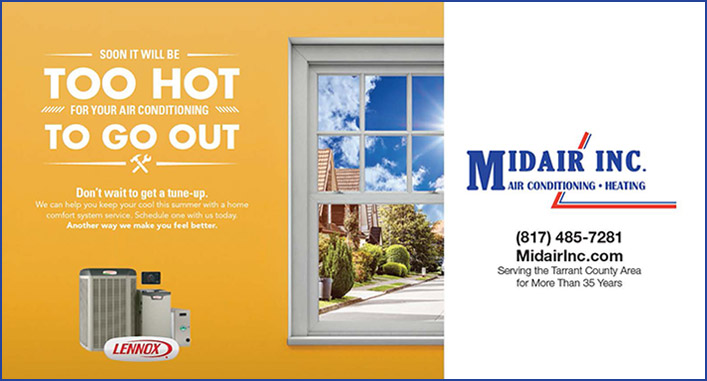 Quality Air Conditioning Service Guaranteed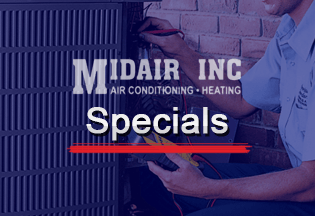 From A/C Tune-Up specials to warranty specials on qualifying purchases. Save even more money and energy with MidAir specials!
Find out how your A/C system can benefit from MidAir Planned Services. Keep your cooling system finely tuned for optimal results.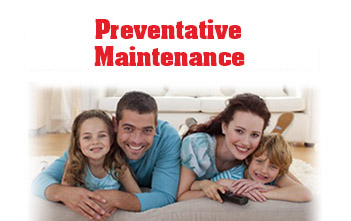 Our thorough checkup finds potential problems before the heat of the summer season hits and helps your equipment run at peak performance.
Over 43 Years of A/C Service Experience
For 43 years Mid Air has been one of the most trusted and highly praised heating and air conditioning providers in the Dallas, Fort Worth metroplex.

Our main goal is to create long lasting relationships with our customers for life. Which is why we guarantee that you will be 100% satisfied with every A/C repair performed on your system.


Residential Air Conditioning

Repair & Installation for the Dallas, Fort-Worth Metroplex