Blown-In Insulation Services
The purpose of Blow-In insulation is to reduce the transfer of heat between the inside of the home and outside. Blown in insulation is a form of insulation that Mid Air blows in hard to reach areas. Without blown in insulation, you could be increasing your energy costs by 10 to 20 percent. If you do not have blown-in insulation, having it installed in your home will help you save money on your energy bill.
We install blown-in insulation by attaching a hose from a truck to the point of installation. When installing blown-in insulation to the attic, we run the hose through the house into the attic and spray the insulation until it reaches the correct depth.
Fiberglass and cellulose blown insulation materials:
Many insulation contractors install blown fiberglass insulation, others install cellulose. Both are fluffy insulation meant for your attic. Blown fiberglass can be installed directly over your existing attic insulation, as long as the older insulation is still in good condition.
Why homeowners choose Mid Air:
• Free Estimate
• Certified and trained technicians
• Experience with many types of blown insulation

24/7 Emergency Services
Texas heat can be unbearable. With that in mind, we offer emergency services for residential and commercial customers.

Complete Safety and Function Check
Every repair and installation that we perform will be thoroughly tested for safety and functionality. 100% satisfaction guaranteed.
Warranties for Parts & Labor
We have full confidence that all A/C repairs will satisfy your needs. To prove that, we offer warranties for parts and labor.

Ask About our Planned Service
Extend the life of your equipment by making sure that it is finely tuned at all times. It pays for itself by cutting your costs!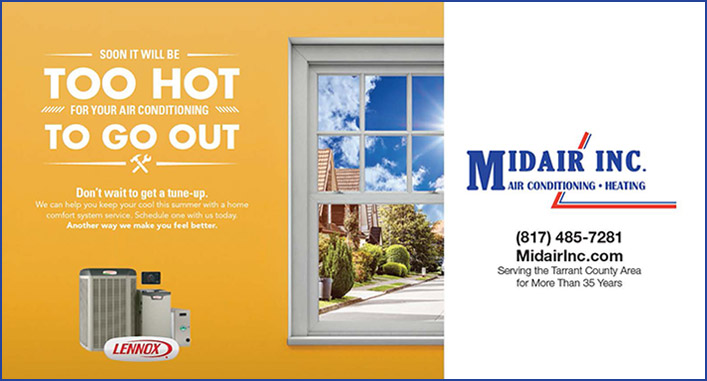 Quality Air Conditioning Service Guaranteed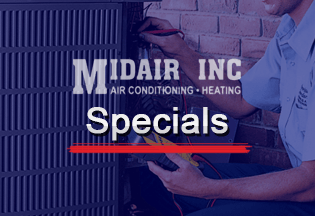 From A/C Tune-Up specials to warranty specials on qualifying purchases. Save even more money and energy with MidAir specials!
Find out how your A/C system can benefit from MidAir Planned Services. Keep your cooling system finely tuned for optimal results.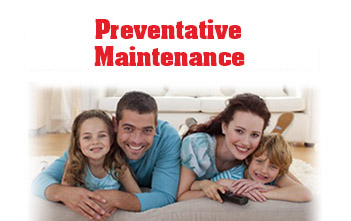 Our thorough checkup finds potential problems before the heat of the summer season hits and helps your equipment run at peak performance.
Over 43 Years of A/C Service Experience
For 43 years Mid Air has been one of the most trusted and highly praised heating and air conditioning providers in the Dallas, Fort Worth metroplex.

Our main goal is to create long lasting relationships with our customers for life. Which is why we guarantee that you will be 100% satisfied with every A/C repair performed on your system.


Residential Air Conditioning

Repair & Installation for the Dallas, Fort-Worth Metroplex