Spring Preventative Maintenance
Spring Preventative Maintenance Special. Includes all makes and models. Save money and energy this spring and summer by tuning up your air conditioning system.
Reasons to have your unit serviced:
By having your cooling and heating system cleaned and fine-tuned, which allows the system to function at maximum efficiency for the power it consumes.
By having less emergency repair calls at peak season pricing.
Aids in extending the life of the equipment.
Midair's Preventative Maintenance Special includes these critical and recommended services.
THE COOLING MAINTENANCE CHECK WILL CONSIST OF
Cleaning condenser and condenser coil.
Check for excessive vibration
Check high voltage contactor for pitting.
Check condenser and blower motor bearings and lubricate if needed
Check operation of safety controls, and crankcase heater operation.
Check condenser coil and evaporator coil temperature differential.
Measure for proper current draw
Check system for proper refrigerant charge (Report any visible leaks
Check condensate drain
Check thermostat for cooling operation and temperature.
Our thorough checkup finds potential problems before the busy summer season and helps your equipment last longer.
We will inspect your air conditioning system, then if needed we will make a list of any repairs.
*Parts extra. Multiple unit discounts (same home).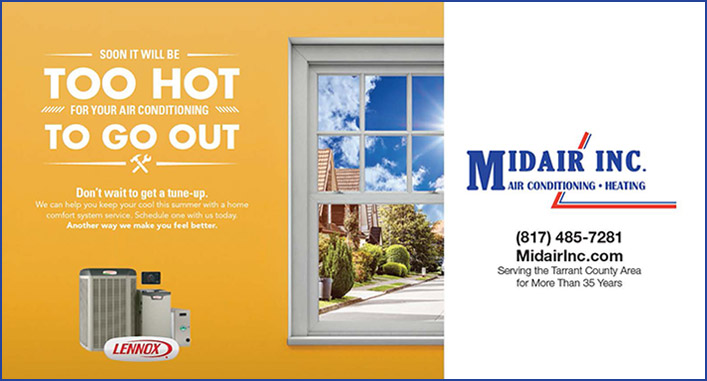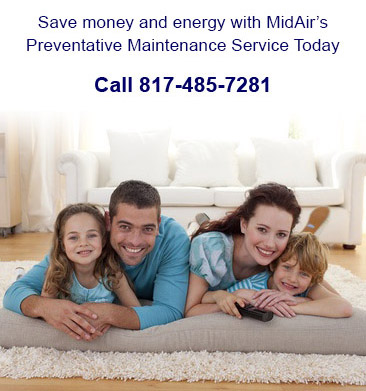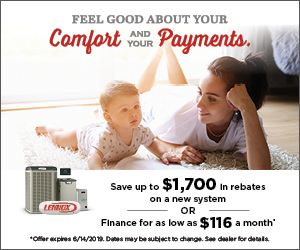 Call Us

or fill out the form below to request for a consultation